Family Owned & Operated
Proudly Serving Customers Throughout Central New Jersey
Trusted Somerset County, NJ Heating & Cooling Services
As part of Valairco celebrating over 50 years in business, we are giving back by donating $500.00 every 3 months to a nonprofit or charity—but first, we need your help.
You can nominate a charity or nonprofit of your choice here.
On the site, simply click the Vote Now button and submit your nomination. After submitting your vote you will be directed to special offers that Valairco has reserved for participants!
Voting ends on April 30, 2023 for the winner of the twenty first donation. Results will be posted on our website.
Get Started
Free Estimates Available
GRACE is recipient of Valairco Cares $500 Donation; Understanding the importance of showing up for your community.
GRACE serves fresh food and supplies to a record 641 Summit families.
Our Recent Winner: Giving Back & Helping Homeless Youth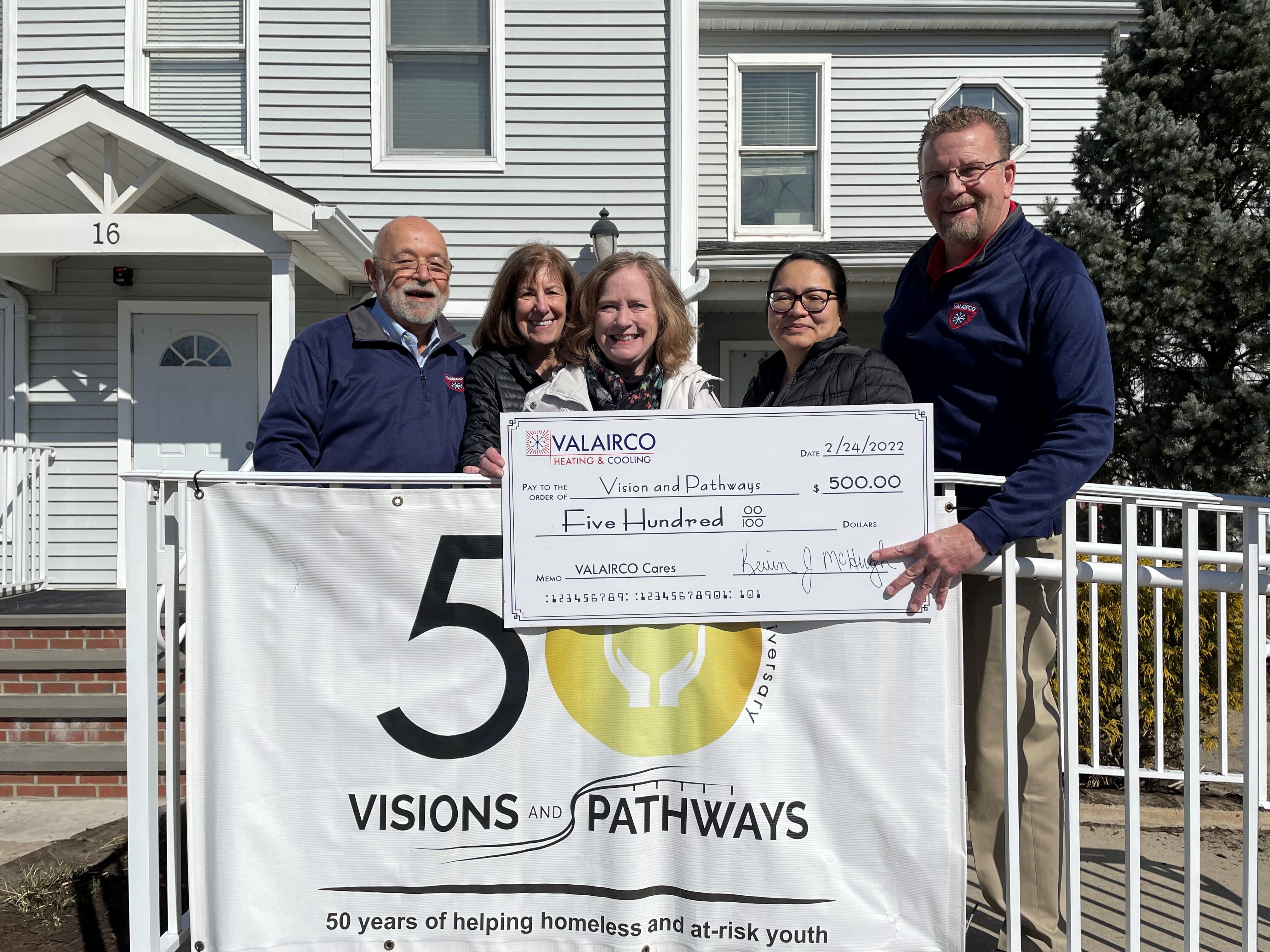 Founded in 1970, Visions and Pathways is a privately run nonprofit organization that helps abused, neglected, and at-risk youth. They provide kids with housing and services that help them develop life skills, gain educational and career support, and improve their self-esteem. While 90% of their operating expenses are government-funded, the organization relies on fundraising and donations for the remaining 10%.
The majority of their funding is dedicated to their programs, which include but are not limited to:
Street Smart, a program that aims to identify and help at-risk youth (ages 13-21) by providing them with crisis intervention counseling, human trafficking prevention education, job and housing opportunities, access to shelter, food, and clothing, transportation, and more
Wellness program, a program that aims to foster an appreciation of the arts and improve the mental and physical health of our youth by giving them access to visual and performing arts as well as fitness programs
Residential and housing services, which allow youth 13 and older to find housing that meets their educational and/or social needs
Transitions, a program that aims to help youth navigate and prepare for life after being discharged from a Vision and Pathway program by helping them find and develop community relationships
Scholarship program, a program that aims to help students in Vision and Pathway programs cover college expenses (i.e. housing, books, travel costs, summer school tuition, etc.)
This quarter, Kevin McHugh (our owner) had the honor of presenting a donation check to Visions and Pathways trustees Emily Benadon, Laurie Pellegrino, and Director of Administration Zoila Gonzalez. Congratulations to Visions and Pathways and thank you for all of the amazing work you all do. We also want to thank our community and voters who nominated and supported this nonprofit.
"Very friendly. I would definitely use this service again, and I highly recommend them"

Mary McNeil

"The Valairco technician came and fixed the unit in less than 10 minutes."

Dmitriy Agafonov

"Extremely excellent job! Very quick, in and out. Couldn't be happier :)"

Richard Ahn

"They were responsive, on time, and they provided good service!"

Sara Ortiz

"I would definitely recommend Valairco to friends in the area!"

Nicholas Dininno

"Did everything they promised to do!"

Anonymous